Kira Division to engage LC1 leaders on non school going children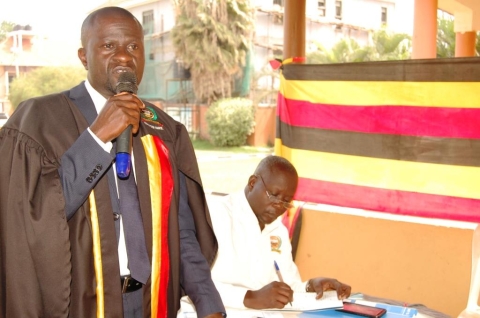 Kira Division to engage LC1 leaders on non school going children
Following the reopening of schools after two years of closure due to covid 19 on 10th January all children in school going age were expected to be back in schools, but it's unfortunate to note that two weeks now but many children in some parts of Kira are being seen loitering around as if the closure is still on. This has forced Kira Division Chairperson Mr.  Gerald Kizito to propose to the Council that all LC1 Chairpersons be engaged in order to find means of addressing the matter in the community. this was in the Division Councilthat sat today at Marian Gardens in Kira where the Division Chairpreson presented the Division State of affair since he assumed the office for the second term as the Division political Head in May 2021.
"Schools have resumed active but it's sad to see that many of our children who are supposed to be in schools are still moving around day and night, and if we do not take collective responsibility as community: it was fine to have the children engaged in productive activities during closure of schools but for now schools have opened and therefore engaging a child in any other activities others than academics is destructive, for that case Mr. speaker I submit a proposal that as Council we engage our leaders at LC1 level so that we can jointly find means of addressing this matter in order to prevent the likely outcomes" said Kizito.
On the issue of development Kizito praised the Municipal Council and the central government for giving Kira Division priority by upgrading a number of roads saying that this has boosted development and mushrooming apartments and other well-planned structures in the area. Kizito said that if this continues Kira in few years will be one of the well-planned areas with reasonable tax base from properties thus assuring improved service delivery to the community members
 Security threats
Address to the Council, the Division Speaker Hon.  Kinene Micheal expressed fear in the rapidly increasing number of private Security Guards hired to provide security to the booming businesses in the area. Kinene said that different businesses are hiring private security guards for the safety of their premises but the danger is that many of these guards have got roomed of within the community where they stay with the guns they use in their duties.
"Imagine a private security guard who is poorly paid but left with the gun and renting a simple room around in the community full of jobless youths! I have a fear that criminals around use these guards to help them with those uncontrolled guns to terrorize community" said the concerned speaker.
Kinene said that such cases have resulted into insecurity in the community keeping people on tenterhooks more especially during night.  
He called upon all leaders to collectively work with the office of the Mayor who chairs the security committee, RDC and the DPC to monitor and give the information about all the businesses that are employing private guards so that police can have their records for community's safety.