WHO IS WHO ON KIRA MUNICIPAL COUNCIL EXECUTIVE 2021?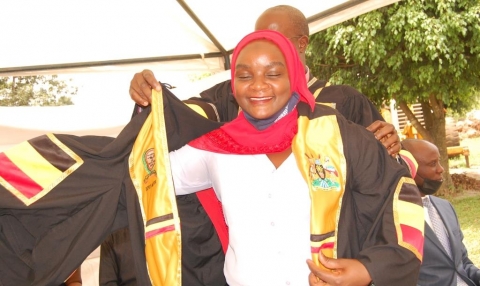 WHO IS WHO ON KIRAMUNICIPAL COUNCIL EXECUTIVE?
Kira Municipal Mayor His Worship Julius Mutebi Nsubuga has appointed and presented his Executive to The Council and all the names he presented have were approved to start working. In a unexpected way Mutebi who is a Member of The National Unit Platform appointed members from other political parties for the purposes of team work. Speaking about his Executive Mutebi said that when coming into power they came on different tickets but that chapter ended and its now about serving for the common goal.
"The people we are serving are not interested in our political party differences but they are rather expecting effective service delivery and for that case I deemed it necessary to my Executive in consideration of merit  in order to meet the expectations of our electorates" he said.
Here are the members he appointed and their brief background:
NANNYONGA RASHIDAH (NUP) –DEPUTY MAYOR
Representing Bweyogerere Ward IV, Nannyonga Rashidah Musoke has been appointed the Deputy Mayor Kira Municipal Council where she been also given additional responsibilities as Secretary Gender and Community Based.
 A mother of two, married to Mr. Ahmed Kayongo, Rashidah joined active politics immediately after graduating from Makerere University where she graduated With a Bachelor of Commerce majoring in Accounting in 2015 and in 2016 she became the Female youth Councilor on the Ticket of Democratic Party (DP) by then. On realizing that her age could not enable her represent the youths anymore Rashidah decided to stand for a direct position representing Bweyogerere Ward IV (2021) on National Unity Platform (NUP).
In 2016 she was elected the Deputy Speaker Deputizing Hon. Frank Ssemukuye whom she decided to stand against in 2021 for the position of Speaker on NUP ticket and unfortunately lost when Ssemukuye retained the position.
SSEKIZIIVU DAVID MUYA (FDC) SECRETARY NATURAL RESOURCES AND PRODUCTION
Belonging to Forum for Democratic Change stated politics as a local mobiliser in 2001 and in 2011 he joined active politics when he contested and worn as Councilor Representing Kireka on Kira on FDC ticket to Kira Town Council and currently representing Kireka C on the same Ticket to the Municipal Council.
SHAMIM NALWANGA (DP) - SECRETARY FINANCE, PLANNING AND ADMINISTRATION
Joined politics in 2016 on DP ticket representing Kimwanyi Ward at Kira Division Council where she worked so close with the Municipal leadership and through her lobbing the Municipality got its first Ambulance donated by the Crist Embassy Ministries. Currently Hon. Nalwanga is representing Kimwanyi Ward I at the Municipal Council where she has been appointed as the Executive Secretary Finance, Planning and Administration.