Kira Schools gets furniture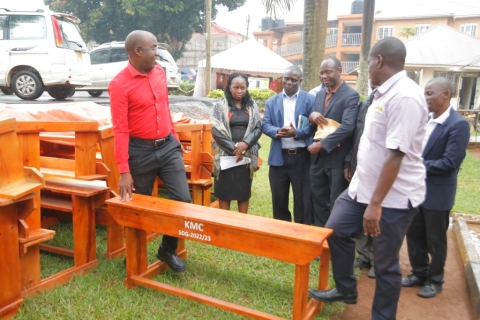 Kira Schools gets furniture
using Sector Development Grant (SDG) Kira Municipal Council has today given out 78 desks worth 20,000,000/ to the badly off schools around the area to improve the studying environment for the learners in the public schools.
kirinya C/U Primary School got 18 desks, St. Thomas Bazadde 15, Kireka UMEA 15, Namugongo Boys 15 and Kijjabijjo Primary School 15 desks.
Michael Ssenkusu, the Municipal Education officer said that besides desks public schools in the mu nicipality are having different needs  such asstaff quartors, enough ebuildings to accomodate the rapidly inreasing enrolment among other.
he also said that there two class room block buildings going on in different schools and and it was agreed that each class be furnished to address the need available.
handing over the desks to the Headteachers of the selected schools Mayor Julious Mutebi said that he is at least having a breathing space seeing that no pupil is sitting on the flow as it was by the time he was given the stewardship as the Municipal maypr by 2016.
Mutebi advised headteachers and members of the School Management Committees to always consider repairing the broken desks other than waiting to get new ones.
'Its is cost friendly to repair the broken desk than buying a new one  but its unfortunate that whence desks get broken they are used as firewood yet if repaired can still serve the purpose and save ur children from sitting on the flow and or squeezing themselves'  said Mutebi.