SCREENING OF EMYOOGA BENEFICIARIES: 50 SACCOs approved for funding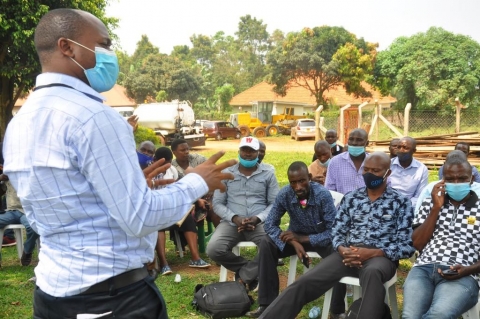 SCREENING OF EMYOOGA BENEFICIARIES:
50 SACCOs approved for funding
50 SACCOs have been approved for benefiting from the Presidential Initiative on Wealth and Job Creation- 'Emyooga' program centered on economic empowering of people in organized groups investing in various enterprises / categories. This has been revealed in the screening process that has taken place at the Municipal Headquarters by the team from the President's Office which had visited the Municipality for fact find about the program progress in Kira.
According to Dr. Abubaker Kintu (Municipal Commercial Officer and Emyooga Focal Person), 54 groups showed interest in the benefit program but 50 SACOs have
so far fulfilled all the requirements and their Certificates of registration have been Produced by the Ministry of trade and industry and to be issued out soon to enable the SACOs to start fully operating.
"The four groups which have not yet fulfilled the requirements have been guided on what to do so that they can also be registered, get the Certificate and operate fully" said Dr. Kintu