Wakiso District Governor cuation Namugongo Division leadership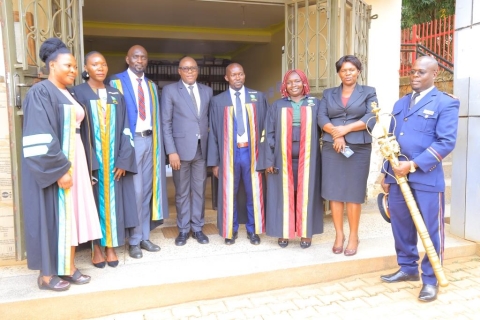 Avoid populism politics and focus on team work and mindset changing- Lwanga Bwanika to Namugongo leadership
Wakiso District Chairperson Mr. Matia Lwanga Bwanika has cautioned Namugongo Division leaders to avoid populist politics which may result into failing fulfilling the purpose for which they were elected. 'one of the challenges we have in local government is inadequate resources to enable effectively deliver the expected services by our electorates but the unfortunate part of it is that some our own members such as Councilors go on the ground and incite people not to pay taxes and complying with some of the policies passed by our Councils not knowing that they (leaders) are digging their own graves! When it comes to demanding for services the voters are not interesting in knowing which political party is dominating in the council. It's disgusting to see that up to now many of us have failed to understand that the political struggles came to an end when we were declared winners; why then fighting in councils because of political party differences?"  he wondered.
"Those very taxes you're inciting people not to pay are the very source of the revenues from which your payments/ facilitations are deducted and then the rest used for services deliveries to benefit the people. It may not necessarily be here in Namugongo but such cases are common in Local Governments where you find Politicians go beyond fighting themselves and fight with Technical staff in the process of executing duties. Such indisciplined leaders sabotage technical staff and at the end service delivery completely fail." Bwanika said this while addressing Namugongo Division Council which had convened to approve the Division Budget for the financial year 2022/2023 at the Division Headquarters.
He further advised leaders especially the Division Chairperson to always consult from the Accounting Officer before implementing anything in line with the official duties to avoid conflicts.
"We have been seeing different standoff between politicians and Technicals in many local governments where some Councils deliberately refuse to approve budgets because of misunderstandings with either the political head or technical staffs among others which all end up into delays in services deliveries at times due to political differences" he added.
Bwanika said that for his case as one, some of the people who have helped him in his leadership especially in lobbing for funds are of a different political thinking but for the purpose of service delivery they move together.  He gave an example of Mr. John Lubega, a one Chairperson of Kamuli C Cell in Namugongo Division who is a staunch Member of the National Resistance Movement (NRM).
On the issue of garbage which is one of the major challenge in urban areas Bwanika advised leaders to effectively focus on mindset changing of the community members so that garbage sorting starts from household level. "if you can handle community members well and ensure that the sorting of the garbage starts from homes you will turn that garbage into other factor inputs such as manure and other recyclable produces such as aluminums and plastics from where you will get revenue."
Regarding personal benefits Bwanika told Councilors that at local government level it is just a training ground for effective politicians but to those who came expecting financial benefits should forget about it. "The law is very care on what you should share as politicians and that share depends on how much you collect locally, whence the local revenue performance is poor that will obviously determine how much you will earn but remember the voters' expectations are so high to a point that some of them decide to shift their parental responsibilities to the political leaders to pay school fees and medical bills for the voters' children and what's so funny is that it's you who promised voters earth and heaven during campaigns when sweet talking them for votes"
The same council session was attended by Kira Municipal Council Mayor His Worship Julius Mutebi Nsubuga, Municipal and Wakiso District Councilors among others. Mutebi in his speech appreciated the Division for the effective team work exhibited in execution of duties.
'As the Municipal Council we are very proud of this Division that despite the many challenges we face as local governments Namugongo Division is performing well in Local Revenue that the Local percentage is over 75%  making one of the best performing Lower Local Governments in the country" said Mutebi.